*This book is currently switching publishers, and is unavailable at the moment.
Sign up for my NEWSLETTER to be notified when it is available again. (Sorry)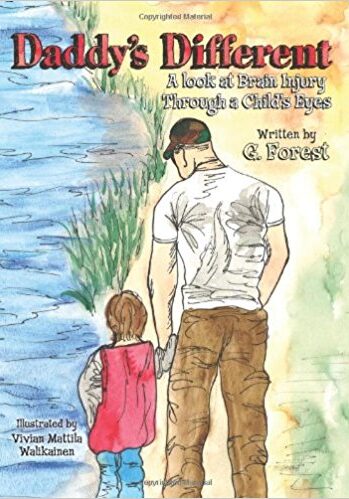 Jack's daddy is acting different, but he still looks the same. When Daddy comes home with a Brain Injury, Jack struggles to accept the new changes in him. Jack connects Daddy's new behavior with all sorts of wild animals, from a forgetful squirrel to a grumpy grizzly bear. Follow Jack on this incredible journey into acceptance and the life lesson that love can survive any injury.

Needed in Libraries and All Elementary Schools!
This book would be a wonderful addition to every Elementary School in the Nation! It would also be wonderful to have in every Library!
A child could be helped with a most difficult transition of a wounded Veteran coming home from serving our Country. As a teacher for many years, I would recommend this to Teachers and Parents of our Children in helping them to cope with changes that may happen to a parent through a Brain Injury of any type. Simply Wonderful and also Wonderfully Illustrated!!
Connie

A must for any parent.
Although this book was written to help children who have a parent with a TBI it is just as meaningful for any child who has ever been hurt or confused by their parents words or actions. The message of love that exists within the heart of every parent is beautifully conveyed through this touching story. I would highly recommend this book for children of all ages.
MJ26

A Powerful Children's Book for All Ages.
Daddy's Different: A Look At Brain Injury Through A Child's Eyes is a children's book with the power to heal. The narrative and illustrations masterfully present the story of a child's struggle to understand a father's brain injury. But, what is particularly noteworthy about this book is that not only children, but adults also, will be able to relate to the story no matter what life obstacle they may be facing. Daddy's Different brings a powerful message of hope, and hope is where the healing begins.
JDB

Thoughtful Courage. 
There are many volumes authored regarding both the clinical and psychological aspects of brain injury and the necessary pathways to address those issues for patients. And those approaches are certainly important to recovery.
But often lost in this scenario is the equally important co-recovery of the children of those patients. This is a heart-felt, first person, spousal view of how to speak with children whose parent has encountered this challenging event. I have shared the book with a young couple who's circumstances brought them to the same place, and they are grateful and appreciative.
Finally, this is likely a book that could only be written by a parent/spouse who has lived the experience. And I thank the author for sharing this insight.
Kevin J. Donlan

Excellent 
Fills a much needed void for the children who are affected by a parent/loved one who have suffered a traumatic brain injury.
RF